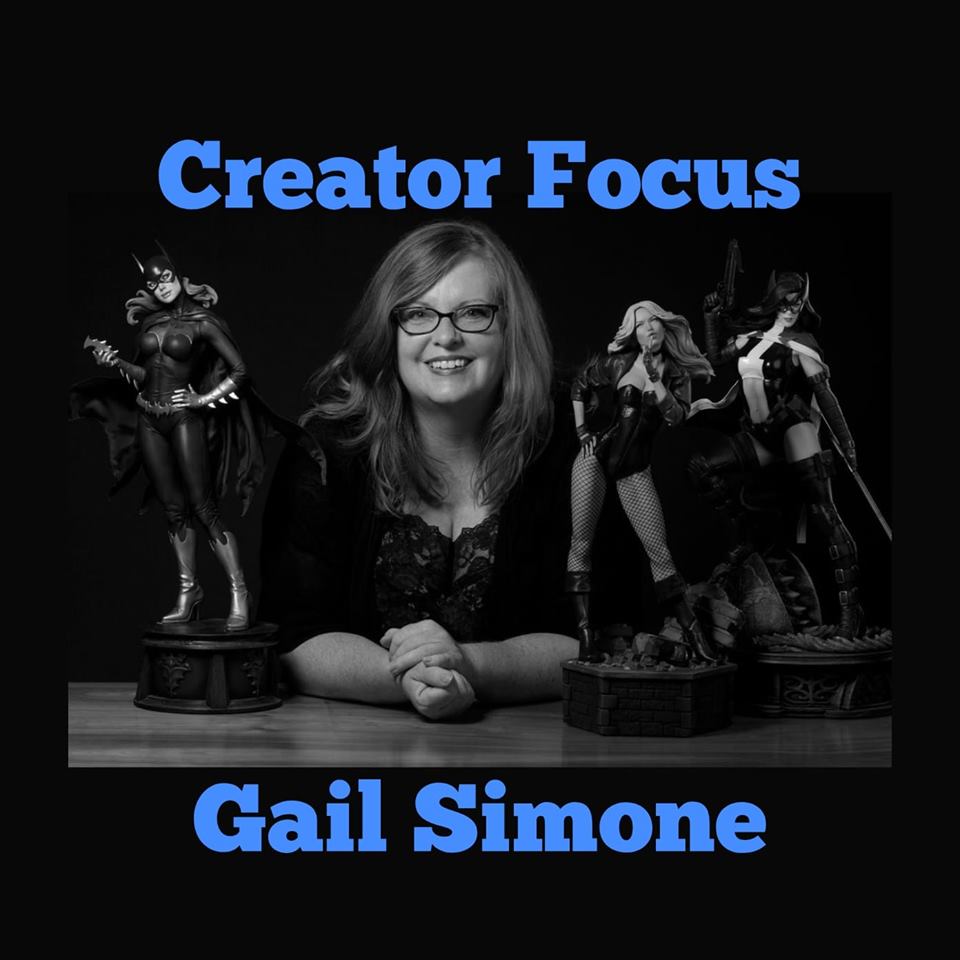 This week we talk about Gail Simone for Creator Focus
Gail Simone
Born:     July 29, 1974 Oregon
Occupation: Writer, Critic
Notable Works:
Birds of Prey
Secret Six
Welcome to Tranquility
Wonder Woman
Red Sonja
Batgirl
Awards
2009, she was inducted into the Friends of Lulu's Female Comic Creator's Hall Of Fame.
2010 and 2012, Simone was nominated for a GLAAD Media Award for Outstanding Comic Book through her work on Secret Six
July 2014, Simone was awarded the first ever True Believers Comic Award for Roll of Honor/Comic Excellence at London Film and Comic Con
n
1990's
Simone first came to fan attention through Women in Refrigerators, a website founded in 1999

In response to Green Lantern #54, where Kyle'r girlfriend (Alexandra DeWitt) was murdered and put into a refrigerator.
The site was dedicated to identifying female superheroes who had been killed, raped, or otherwise suffered traumatic indignities as a plot device for a male character.

Simone worked for Bongo Comics, scripting many of their comics based on The Simpsons.

Her contributions include stories for Simpsons Comics, an annual Treehouse of Horror special, and regular scripts for Bart Simpson Comics.
2000's
Simone entered the comics mainstream with a run on Marvel Comics' Deadpool.
When Deadpool was canceled and relaunched as Agent X, Simone continued as writer, but eventually left the series after a conflict with the series' editor
After the dispute with Marvel, Simone moved on to DC Comics, where she was given the Birds of Prey title in 2003

all-female group consisting of Oracle, Black Canary, The Huntress and Lady Blackhawk.

Simone took over Action Comics after writer Chuck Austen, with John Byrne penciling.
2005 Villains United limited series – part of the "Infinite Crisis" crossover – in which she revitalized the Catman character.
wrote a two-issue story arc that focused on the new Hawk & Dove for the third Teen Titans series, with Rob Liefeld penciling.

Simone maintained her usual enthusiastic stance, fandom was quick to lambast the promotional art Liefeld produced in tandem with the PR announcement.

In 2005 Simone wrote a Villains United limited series spin-off, entitled Secret Six, which led to an ongoing series

debuted in September 2008 and finished with the rest of DC's titles prior to the September 2011 New 52 relaunch.

Killer Princesses #1–3 (with Lea Hernandez, Oni Press, December 2001 – April 2003) collected as:

Killer Princesses (96 pages, February 2004

Action Comics #827–831 & 833–835 2006

Collected as: Superman: Strange Attractors

Rose and Thorn #1–6 2004
Simone also wrote an Atom series, based on ideas by Grant Morrison
Other work includes a Gen¹³ series 2006
and a creator-owned project about a retirement community of super-heroes, Welcome to Tranquility, for the company Wildstorm.
Simone was also a contributor to Tori Amos's Comic Book Tattoo

an Eisner Award and Harvey Award-winning anthology graphic novel made up of fifty-one stories, each based on or inspired by a song by American singer-songwriter Tori Amos, published by Image Comics in 2008.

April 12, 2007, DC announced that Simone would be the new regular writer of the third volume of Wonder Woman

notable for being Wonder Woman's longest-running female writer
2010's
named as the writer for Birds of Prey under the "Brightest Day" banner.
A second Welcome to Tranquility limited series was also published in 2010
June 2011, it was announced that Simone would be working on a revamped Firestorm series starring Ronnie Raymond and Jason Rusch
2011, Simone contributed to The Power Within, a Kickstarter-funded comic book that focuses on teen bullying
That same year, as part of DC Comics' New 52 initiative, Simone wrote the new Batgirl title starring Barbara Gordon.

Simone introduced a character named Alysia Yeoh, who was later revealed to be transgender, the first major transgender character written in a contemporary context in a mainstream comic book

2012, various press reported rumors that her exclusivity deal with DC was coming to an end, that she was leaving the Batgirl title and possibly DC

December 9, 2012 Simone revealed that her departure was not voluntary, and that she had been fired from Batgirl the preceding Wednesday by the book's new editor, Brian Cunningham
December 21, Simone was back writing Batgirl

2013, DC announced The Movement, a new series by Simone and artist Freddie Williams II, which Simone calls, "a book about power – who owns it, who uses it, who suffers from its abuse."

It focused on a group of teenagers, known as The Movement or Channel M, who use their superpowers to fight the corruption in Coral City.

The following month Simone began writing a new ongoing Red Sonja series for Dynamite
Simone was listed first on IGN's list of the "Best Tweeters in Comics" for the "enthusiasm and thoughtfulness" of her Twitter posts
2014 to 2015, Simone wrote the Lara Croft series Tomb Raider for Dark Horse Comics.

The series was set in the continuity of the 2013 video game reboot and takes place between that game and its sequel Rise of the Tomb Raider.
Bonus: Other Media
Simone worked on the Justice League Unlimited episode "Double Date", which features Question, Huntress, Green Arrow and Black Canary in a romantic adventure tinged with revenge and jealousy.
She also wrote a 2010 episode of Batman: The Brave and the Bold titled "The Mask of Matches Malone!", which features Black Canary and Huntress from the Birds of Prey, as they try to remind Matches Malone that he is Batman.
2007, Simone created and wrote an episode of GameTap's Revisioned: Tomb Raider, entitled "Pre-Teen Raider"
2019 she wrote "Between Dark and Dawn", an episode of the television series My Little Pony: Friendship is Magic
Merch:
https://www.zazzle.com/focpodcast
Be Sure to Follow us on Social Media
Twitter: @FOC_Podcast
Facebook: FOCPodcast
Instagram: @FOC_Podcast
Email: focpodcast@gmail.com
Music: Aural Bandito
Play Now